Dr. Amy Khajavi DDS
Dr. Amy Khajavi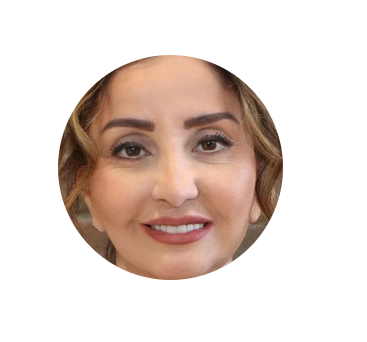 Dr. Amy Khajavi DDS graduated from the International College of Cranio-Mandibular Orthopedics in Chicago, Illinois. Dr. Amy's training continued for five years after getting her dental degree in Oregon. Due to her dedication and hard work, she received the prestigious Master of International College of Cranio-Mandibular Orthopedics.
Dr. Amy specializes in full mouth reconstruction, neuromuscular dentistry, occlusions, jaws, sleep disorders, and TMJ/TMD management. In fact, she has managed thousands of cases of TMJ/TMD, bruxism, and other related conditions. Dr. Amy's success is unparalleled, with more than 30,000 successful implants.
Dr. Amy Khajavi performs full mouth reconstruction using ceramic zirconia dental implants, and crowns. This makes her one of the few dentists that do not use metal substances when doing full mouth implants. Dr. Amy's practice All Natural Dentistry is a holistic dental office, where only biocompatible are used. She also uses 3D technology to create precise implants for her patients. Another aspect that makes Dr. Amy's practice special is using protein-rich growth factors (PRGF). The purpose of this protein is to increase the soft tissue healing process of the patient. The best part is that she gets PRGF from the patient's own blood.
Currently, Dr. Amy works at the All Natural Dentistry clinic, which she owns. With over 20 years of experience as a practicing dentist, she has all the necessary qualifications to take good care of patients. During her training, Dr. Amy was under the supervision of two world-renowned prosthodontists – Dr. Bob Jankelson and Dr. Ueno Hiroshi. Dr. Amy receive several awards, including the 'Excellence in Full Mouth Rehabilitation'. This was awarded by the Las Vegas Institute for Advanced Aesthetic Dentistry in 2002. One year later, the same institution named her 'A Highly Dedicated and Master Clinician'.
( 0 Review(s) )
Learn More about Dr. Amy Khajavi
Dr. Amy Khajavi's Reviews
Likelihood of recommending Dr. Amy Khajavi to family and friends
Dr. Amy Khajavi DDS
16516 Bernardo Center Dr Suite 210 San Diego, California 92128
Phone: (619) 305-8423
Copyright © healthlist.health 2022